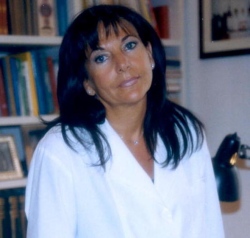 RESEARCH AND PROFESSIONAL EXPERIENCE: University of  Pisa Medical School, Pisa, Italy Graduation in Medicine and Surgery              (M.D.)                   1979
Professional Experience
| | |
| --- | --- |
|   |   |
| 1983-1987 1987-1992 1992 -2001 | Clinical Researcher of the Institute of Pharmacology, University of Pisa, Italy Clinical Researcher of the Institute of Psychiatry, University of Pisa, Italy Associate Professor of Psychiatry, University School of Medicine, Pisa, Italy |
| 2001-ongoing 2002-ongoing | Full Professor of Psychiatry, University School of Medicine, Pisa, Italy Director of the 1st Unit of Psychiatry, Azienda Ospedaliero-Universitaria Pisana, Pisa, Italy |
| 2010-ongoing | Director of the School of Residency in Psychiatry, University of Pisa, Italy |
| | |
MAIN RESEARCH TOPICS: Member of the International Collaborative Research Group "Spectrum Project", between the Universities of Pisa (Italy), Pittsburgh (USA), Columbia – New York (USA), of California – S.Diego (USA). Studies on Recurrent Mood Disoders(San Diego-Pisa) Clinical and treatment studies on psychotic disorders with particular attention to clozapine treatment Studies on the use of typical and atypical antipsychotics in patients with Bipolar and Schizophrenic Disorder Studies on Axis I and subthreshold comorbidities in psychiatric disorders   PRINCIPAL-INVESTIGATOR AND PSYCHIATRIST IN THE FOLLOWING STUDIES:
Use of Interferon a versus Human Recombinant interferon in patients with HCV related hepatitis STEP, Systematic Treatment
Double blind study of Topiramate versus Carbolithium and Placebo
Spectra evaluation in a sample of high school adolescents
Pain and mood an panic spectra in surgery patients
Neurochemical Brain Investigations of Mood Disorders with Magnetic Resonance Spectroscopy
Long Term follow-up studies on psychotic patients
Awards and HONORS
Graduation:                                                        Summa cum Laude
Residency:                                                          Summa cum Laude
PUBLICATIONS
Prof Dell'Osso is author of more than 200 publications on national and, mainly, international journals (index medicus, current contents, excepta medica). Ten selected publications are the following:
Dell'Osso L, Saettoni M, Papasogli A, Rucci P, Ciapparelli A, Bandettini di Poggio A, Ducci F, Hardoy C, Cassano GB. Social anxiety spectrum: gender differences in Italian high school students. Journal of Nervous Mental Diseases. 2002;190(4):225-32.

Galderisi S, Maj M, Mucci A, Cassano GB, Invernizzi G, Rossi A, Vita A, Dell'Osso L, Daneluzzo E, Pini S. Historical, psychopathological, neurological, and neuropsychological aspects of deficit schizophrenia: a multicenter study. American Journal of Psychiatry. 2002;159(6):983-90.

Rotondo A, Mazzanti C, Dell'Osso L, Rucci P, Sullivan P, Bouanani S, Gonnelli C, Goldman D, Cassano GB. Catechol o-methyltransferase, serotonin transporter, and tryptophan hydroxylase gene polymorphisms in bipolar disorder patients with and without comorbid panic disorder. American Journal of Psychiatry. 2002;159(1):23-9.

Dell'Osso L, Pini S, Cassano GB, Mastrocinque C, Seckinger RA, Saettoni M, Papasogli A, Yale SA, Amador XF. Insight into illness in patients with mania, mixed mania, bipolar depression and major depression with psychotic features. Bipolar Disorders. 2002;4(5):315-22.

Ciapparelli A, Dell'Osso L, Bandettini di Poggio A, Carmassi C, Cecconi D, Fenzi M, Chiavacci MC, Bottai M, Ramacciotti CE, Cassano GB. Clozapine in treatment-resistant patients with schizophrenia, schizoaffective disorder, or psychotic bipolar disorder: a naturalistic 48-month follow-up study. Journal of Clinical Psychiatry. 2003;64(4):451-8.

Cassano GB, Rucci P, Frank E, Fagiolini A, Dell'Osso L, Shear MK, Kupfer DJ. The mood spectrum in unipolar and bipolar disorder: arguments for a unitary approach. American Journal of Psychiatry. 2004;161(7):1264-9.

Bevilacqua L, Doly S, Kaprio J, Yuan Q, Tikkanen R, Paunio T, Zhou Z, Wedenoja J, Maroteaux L, Diaz S, Belmer A, Hodgkinson CA, Dell'osso L, Suvisaari J, Coccaro E, Rose RJ, Peltonen L, Virkkunen M, Goldman D (2010). A population-specific HTR2B stop codon predisposes to severe impulsivity. Nature, vol. 468(7327); p. 1061-1066
Dell'Osso L, Carmassi C, Massimetti G, Daneluzzo E, Di Tommaso S, Rossi A (2011). Full and partial PTSD among young adult survivors 10months after the L'Aquila 2009 earthquake: Gender differences. Journal of Affective Disorders, ISSN: 0165-0327, doi: 10.1016/j.jad.2010.11.023
Dell'Osso L, Carmassi C, Massimetti G, Conversano C, Daneluzzo E, Riccardi I, Stratta P, Rossi A. Impact of traumatic loss on post-traumatic spectrum symptoms in high school students after the L'Aquila 2009 earthquake in Italy. Affect Disord. 2011 Nov;134(1-3):59-64.
Dell'Osso L, Carmassi C, Massimetti G, Stratta P, Riccardi I, Capanna C, Akiskal KK, Akiskal HS, Rossi A. Age, gender and epicenter proximity effects on post-traumatic stress symptoms in L'Aquila 2009 earthquake survivors. J Affect Disord. 2013 Apr 5;146(2):174-80. doi: 10.1016/j.jad.2012.08.048. Epub 2012 Oct 23.